The Norton Museum of Art in West Palm Beach has opened its exhibition of the five nominees for the inaugural Rudin Prize for Emerging Photographers. The award calls on five internationally acclaimed photographers to act as a nominating panel, each selecting one emerging artist who is at the leading edge of contemporary photo-based art and has yet to have a solo show in a museum. The winner of the prize, to be selected by the museum's Photography Steering Committee and announced on December 4, will receive a cash prize of $20,000 and a solo exhibit at the Norton.
If you go to the exhibit expecting to see fine examples of photography, save for Eunice Adorno's intimate photo essay, you will be disappointed. If you go expecting to be surprised at what is regarded as cutting edge photography, you will be quite pleased.
Adorno was nominated by Magnum photographer, Susan Meiselas. Her series of color photographs, titled "Las Mujeres Flores", reveals the strict social traditions that define Mennonite women in northern Mexico. The work shows the craft of a photographer in control of her medium who has the facility to create a strong narrative with images. The group of photographs shows an understanding and respect for her subject.
Gabriela (Nin) Solis, also from Mexico, and Mauro D'Agati, from Palermo, Italy presented traditional photography as well. Solis' work was black and white analog silver gelatin prints and D'Agato's, color pigment prints. Solis was nominated by the esteemed Mexican photographer, Graciela Iturbide. Her prints were quiet pieces, many of them small, some cropped to square. They were studies of the effects of a superhighway construction project in Mexico. If the work possessed the visual strength of one of the Westons or the enigma of her nominator, we may have come away remembering it. But it did not. Her compositions have become lost in the hundreds of other images seen that day. D'Agati's work represented a look at the underworld of Naples through the eyes of "Carmine", but without being told, you would not know. A large collage of mugshots could have as easily been traffic violators as mafia players. The photographs lacked the intensity one might expect of the subject and as images themselves, looked like what you can find in online photo sharing websites. Both artists' work depended on a written explanation to understand it.
I won't even pretend to understand or explain Analia Saban's mixed media work. The monochrome pieces involved scraping the gelatin off of silver gelatin prints and trailing it across an adjacent canvas panel.
I am certainly open-minded and I doubt anyone would call me a prude. Had I seen this selection of Sven Venø's work at a gallery in Manhattan or San Francisco I would have reached the same conclusion and simply forgotten about it. One wall of his exhibit contained three large, realistic color photographs on aluminum, and to the right were three pedestals with running videos, each corresponding to one of the three still photographs. We were told one of the videos was eight hours long. Venø is the subject of his work, portraying different characters in much the same way as Cindy Sherman. In fact, her name was mentioned during the curator's talk. At approximately 3×4 feet, it would hard to not notice Venø's penis sticking out from his bluejean shorts. While I was not offended by the photograph, I didn't see much point in it either. It was just a color photograph of a guy on a rope ladder with his dick hanging out. The English artist explains that his work explores the traditional roles of masculinity and that he does so by playing the part of the fool. I think most people know that a penis defines a male. This looks like exhibitionism masquerading as art.
The day after the preview and opening of the exhibit, I received an email from a fellow photographer I had seen there the night before. "Did you see the porn part of the exhibition at the Norton? After we heard the talk I walked around again…and there was a video on of a guy masturbating with an ejaculation and all…" I told her I had not seen that.
While the large still exhibitionist photograph did not offend me, the notion of the video certainly does. How does a parent explain to their child, or teenager, that a "real" man jerking off is a perverted act that should immediately be reported to the police, but a video in a museum of a man jerking off is "art"? Art that might be rewarded with a $20,000 cash prize!
A fear of perverts and pedophiles whipped up by the news media pervades the community. I have been told on numerous occasions by city security officers that I "cannot photograph children playing in Centennial Fountain." Other photographers here tell of similar incidents in other public places.
Any discussion of obscenity involves community standards. What is appropriate for one city may not be for another. One has to wonder whether the new William & Sarah Ross Soter Curator of Photography, Tim Wride, believes the exhibit will be seen as a major coup for the museum, or whether he goes in to work every day dreading email from outraged museum goers. Perhaps the nasty bit of business is buried deeply enough in the eight-hour video that few if any will actually see it. We only hope the decision to be controversial does not cost the museum in the long run. With more great photographic art now than ever, it is surprising that the museum would exhibit something of such questionable taste and low moral standard.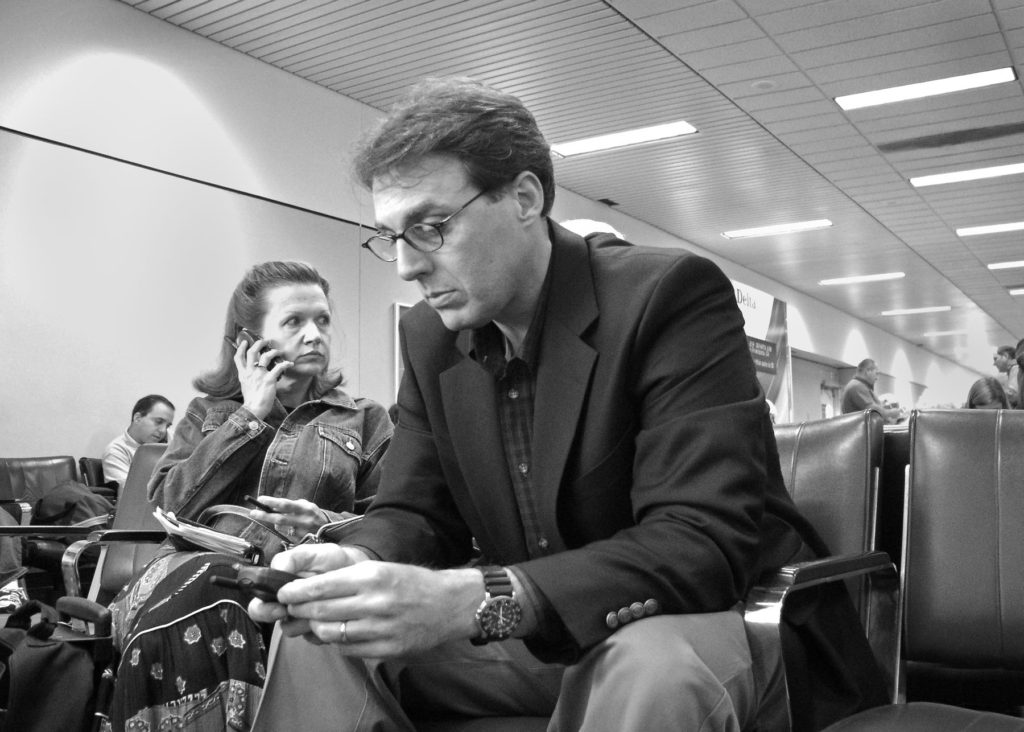 Welcome to the age of robots. You may not have noticed, but they're here. Everywhere. I am not referring to the ones that build automobiles in factories or the ones that Roomba® in your home. I am referring to the ones that technology has so gracefully and gradually slipped into our lives that we haven't even noticed. Like a 1950's sci-fi movie, had they come from another galaxy they would have already conquered the earth. But who would have thought they would have no arms or legs and fit inside a pocket?

I have a stupid phone. Although it probably does things that I don't use it for, it fits in my pocket and makes telephone calls very easily. If my phone were smarter I would probably teach it to reply to "am I loved?" and "am I needed?" Judging from the compulsive behavior exhibited by people at malls and airports, that seems to be the primary function of these devices. Don't start lobbing rotten tomatoes at me. I too can be compulsive when I have uploaded an especially good photo to Flickrpoosted to social mediaeed to. But when I leave the house the Internet and email stay behind and I treasure the separation from connectivity. That is especially true if I am on a pleasure trip. I am really not important or needed enough to have to be available at all times. Man, am I happy about that~! There are times when I feel like grabbing the phone out of the hand of some boorish idiot in front of me in the checkout line and smashing it to the floor. Sorry, this wasn't meant to be a device bashing post. Let's get back to the robots.

When I saw the commercial for the iPhone 4s it struck me that this was more than a phone or even a pocket-sized computer. With the advanced capabilities of voice recognition it has become a personal assistant. How cool is that? And she fits in a pocket and goes with you everywhere. If I were twenty or thirty years younger I would be so into mobile technology. Just the ability to carry my whole commercial photography portfolio as a multimedia presentation on a tablet the size of a magazine would close the deal for me. And it surfs the web and does email too…and more!

There is certainly the seed for a science fiction movie here. Some Blofield-like maniac bent on ruling civilization could devise a way to take over smart phones the world over and control people's minds…or their bank accounts! I have reached a point in life where I accept almost anything as being possible but don't believe it unless I see it. So I advise you, it is not too early to start thinking about robot insurance.

Old Glory Insurance
As I have been posting these older photographs, several things have become evident. I have noticed, particularly with the bus series, that these people do not exist downtown any more. For one thing, this particular bus stop is gone. It was the main stop back then. Either the middle class has made the upwardly mobile move and are now disguised as young professionals, or the whole demographic of West Palm Beach city proper has changed. Government offices and toney restaurants have replaced the Woolworths and Kresge five-and-dimes. The last of the downtown department stores, Burdines, has not only long ago left downtown, but the shopping landscape altogether. The ubiquitous Starbucks is frequented by yuppies (do they even call them that anymore?) reading the daily news on their iPads. Has West Palm Beach finally grown up, or has the world just changed? Or both? There is certainly no longer any need for pensioners to go downtown. There are plenty of dollar stores taking over strip malls in the outlying areas.
While we may think of ourselves as street photographers and street photography not as journalism, we are social documentarians. Anthropologists. Takers of a visual census of our time. We may not know that in the present, but it becomes evident in our photography as it acquires the rich patina of time. One of the characteristics that identifies street photography (for me) is that we do not have the responsibility of journalism. We are not required to be compassionate, or responsible or to fulfill any mandate to tell a story. Yet in the end, our work may end up being all of these things.


TOP: Bus #4, West Palm Beach 1980
ABOVE: Don't Get Married, West Palm Beach 1980